The next major update in Android OS is almost here with the availability of Android Q beta 3. We got a lot of information about the same from the Google I/O 2019 event. The keynote also confirmed many rumoured features ahead of the Android 10 release date.
However, Android 10 will not be out until August 2019, but beta 3 is available for download. While the much-awaited feature – system-wide Dark Mode, – is finally here, Google has, for the first time made Android Q available for non-Pixel devices.
Android 10 Release Date Timeline
March 13: The first Android Q developer beta launch
April 3: Android Q beta 2 made available
May 7: Android Q beta 3 launched at Google IO 2019
Early June: The final incremental update, and beta 4
July: Beta 5 and beta 6, release candidates
August: The final release has routinely happened in August
List Of Android Q Beta 3 Supported Devices:
The official list of Google's supported devices for Android Q is:
Google Pixel 3/3XL, Pixel 3a/3aXL, Pixel 2/2XL, and Pixel/XL
Asus Zenfone 5Z
Essential Phone
Huawei Mate 20 Pro
LG G8
Nokia 8.1
OnePlus 6T
Oppo Reno
Realme 3 Pro
Sony Xperia XZ3
Vivo X27, Nex S and Nex A
Xiaomi Mi 9 and Mi Mix 3 5G
Since Android Q is bringing a lot of revolutionary features to our beloved OS, here are the 25 Most Exciting Android Q Features:
1. Privacy First: It Cannot Be A Luxury Good, Afterall
As Sundar Pichai, Google CEO quoted, "privacy cannot be a luxury good", Google's main area of focus with Android Q is user privacy. The latest version of Android extends control and transparency that users have over their data and app capabilities. Here's how:
2. Scoped Storage
Android 10 will enable users to control how apps access external storage (MicroSD card). Under the Scoped Storage rules, an app can only access files and information on your device if it has permission for that particular library. For example, a media player will request permission only for your music and video libraries instead of accessing all the libraries.
3. Device Location
With Android 10, you will get more controls over when an app gets access to your device location. Right now users can either give an app access to their location or not. Starting with Android Q beta, you will be able to limit the access to your location in an app while using the app.
4. Background App Starts
Google is introducing restrictions on an app launching new activities in the background without any user interaction. It means if an app tries to launch an activity from the background, you will be notified about the blocking of the activity.
5. Hardware Identifiers
Google will now better protect users from being identified easily. Android 10 will restrict access to hardware identifiers like the phone's serial number, IMEI, and similar data. Also, it will randomize your phone's MAC address when you connect to different Wi-Fi networks.
6. New Gestures: Goodbye Back Button
While various manufacturers have their own take on gesture controls, Google stuck with the native three-button navigation till Android Pie. The bottom bar and navigations were first introduced in Android Pie and now Google is taking it a step further with Android 10.
For example, instead of using a back button, users will now be able to go to the previous screen by simply swiping from the left edge to the middle of the screen in various apps.
7. Android 10: Dark Theme
Finally, dark mode is making its way to the soul of Android.
With Android 10 beta, users will be able to apply a system-wide dark mode and darken everything from notifications to the settings. Unlike previous stock Android dark themes, the Android 10 dark mode applies to (almost) all the apps, including Instagram.
Apart from making things dark, the dark theme will save you a lot of battery. We are saying so because one of the ways to toggle Android 10's dark theme is by turning on the Battery Saver mode.
It is a boon for devices with OLED screens as the pixels are left turned off in the black regions of the display, resulting in a less pixel burn.
Suggested Read-
How To Split-Screen Instagram [Or Any App] On Android [Without Root]
8. Bubbles: Android 10 Multitasking
If you have used Facebook Messenger, you must be aware of the chat heads which show on the screen. Technically, Android 10 "Bubbles" are chat heads for multitasking.
Bubbles display small circular, floating alerts on top of whatever you are doing on your Android device. To make sure that you are not overwhelmed by bubbles from every app you install, Google asks you to approve each app separately for using Bubble as a notification method.
9. Focus Mode: Do More By Doing Less
Building on the Digital Wellbeing feature of Pie, Android 10 lets you silence specific apps (particularly the ones you find distracting) until the Focus Mode is disengaged. Also, trying to access those apps while the focus mode is on is a two-step process.
10. Family Link
Android Q's Digital Wellbeing brings a new feature called Family Link which allows for tighter parental controls. For example, parents will be able to approve or disapprove app installs,  set screen time limits (even app-specific time limits), and set a bedtime.
11. In-App Face ID-Style Authentication
Another security feature of Android 10 could allow you to sign into various apps and make purchases through Face ID-style authentication. The working of the same is still unclear as we are not sure about the roll-out of this feature yet.
A code string found by XDA in OS' apk informs users that they can "Use your face to unlock your phone, authorize purchases, or sign in to apps."
If the feature rolls out with official Android 10 update, it will be limited to phones which have the required hardware installed.
12. Project Mainline: A New Way To Speed Up Security Updates
Google is introducing a new way to push security updates to your Android phone. This new Android 10 feature will enable Google to patch certain core system components without an OTA update.
With Project Mainline in works, you'll be able to update important parts of the OS without a restart. Also, Mainline can update 12 core components in the background via the Play Store.
Namely, the 12 core components are:
Security: Media Codecs, Media Framework Components, DNS Resolver, Conscrypt
Privacy: Documents UI, Permission Controller, ExtServices
Consistency: Timezone data, ANGLE (developers opt-in), Module Metadata, Networking components, Captive Portal Login, Network Permission Configuration
Also Read-
18 Google Chrome Flags To Enable For A Better Browsing Experience
13. Project Euphonia: AI To The Rescue
Google aims to help people with speech impairments caused by various neurological conditions or strokes with Euphonia. It is using AI in Android Q beta to improve a device's capability to understand impaired speech and diverse speech patterns.
Google is focusing on learning more and more about the needs of people with ALS to optimise the AI-based algorithms to make mobiles and computers more reliable in understanding words spoken by people with speech difficulties.
14. Live Caption
Android 10 will enable your smartphone to caption any media with audio which gets played. Live Captions will appear in the video as soon as speech is detected by your device. Also, it will work without the need for mobile data or WiFi.
Google says "For 466 million deaf and hard of hearing people around the world, captions are more than a convenience—they make content more accessible. We worked closely with the Deaf community to develop a feature that would improve access to digital media." Hence, Live Caption is focused on helping those with hearing impairments.
15. Live Relay
The Live Relay feature of Android Q beta relies on on-device speech recognition and text-to-speech conversion. It will allow the phone to listen and speak on the user's behalf while on a call with another person. It runs completely offline without the need of Wifi or Mobile Data. Hence, keeping the calls private.
It would be helpful to those who can't speak or hear during a phone call. Also, it may be particularly useful for people with hearing difficulties.
16. Adaptive WiFi: High Performance With Low Latency
Android Q beta effectively supports high-performance and low latency mode. However, WiFi power save is disabled for high-performance. Android 10 also uses Easy Connect to provision WiFi credentials to a per device as a replacement of WPS.
The low latency mode is also enabled only when the screen is on and the application acquiring the lock is running in the foreground. This mode will be pretty helpful for real-time mobile gaming applications.
17. Easy Wifi Sharing
Android Q beta brings another dimension to Wifi Hotspot. You can now share your WiFi details via a QR code. You will find the option to share WiFi details using QR code under the View More details section of your connection.
Anyway, MIUI was the first to give users the option to share WiFi details through QR codes way back in 2014. However, it's great that the feature us now rolling out natively.
18. Smart Reply: Now Built Into The Notifications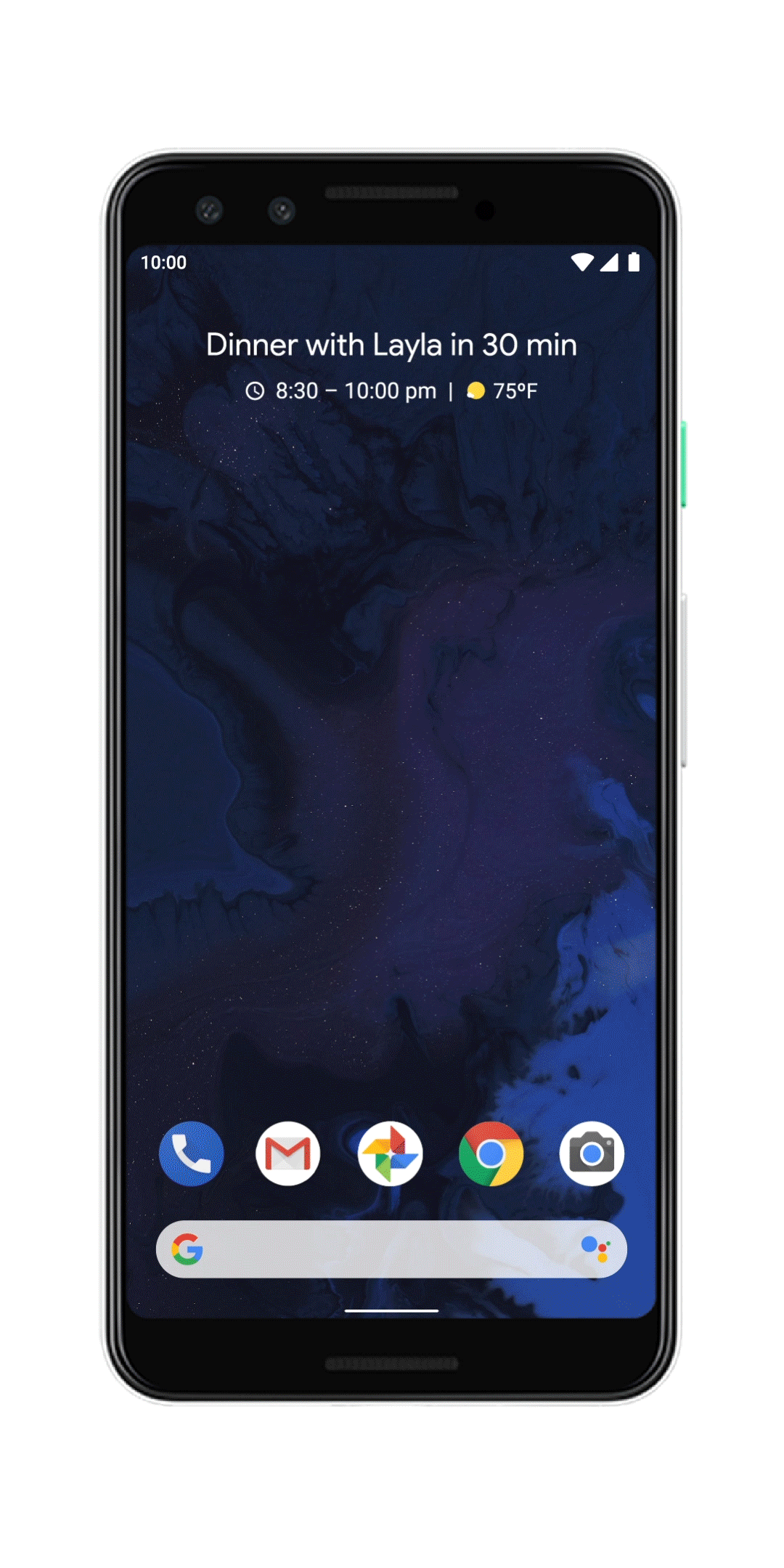 The beloved Gmail feature of Smart Reply is now coming to your notification system with Android 10. On-device machine learning will allow any messaging app to suggest replies in notifications. You can simply tap on one of the suggestions to quick reply.
For example, if you receive an address as a text message, you can tap on it from the notifications and the OS will take you straight into the Maps to open that address
19. Screen Capture: Native Screen Recording
Native screen recording is one of the features which the users have been requesting Google for years now. Finally, it is here. However, you will have to dive into developer options to enable it.
To launch screen recording in Android 10 all you need to do is hold the power button to open the menu and then long press on the screenshot button. It works as expected.
20. Playback Capture: Screen Capture For Audio
The new AudioPlaybackCapture API of Android Q gives apps the ability to copy the audio being played by other apps. It is the same as screen capture but for audio. Google mentions the primary use case of this feature as "for streaming apps that want to capture the audio being played by games."
21. Call Quality Improvements and Caller ID
To improve the call quality, Android Q will collect information of IMS calls, including quality to and from the network. Also, to reduce spam calls, Android 10 enables you to identify calls from numbers not in your contact list. If a call is identified as spam the OS silently rejects the call on your behalf.
22. Depth Information From Photos
Do you like the depth and blur in your images captured from the Pixel camera software? Well, Android Q has plans to inject the same depth and blur into your apps. "You can even use the data to create 3D images or support AR photography use-cases in the future."
23. More Developer Options
Coming from the "Slices" of Android Pie, developers will be able to show contextually-important system settings within their apps in Android Q. This means, you will be able to toggle Airplane Mode or Mobile Data on/off from within the app.
The support of more multimedia codecs like AV1 will allow the media providers to let you stream high-quality videos and HDR10+ for high dynamic range video on the devices that support it (like, the Samsung Galaxy S10).
You can read more about the available developer options in this official Android Developers blog post.
24. Native Desktop Mode: Samsung DeX for Android Q
Android Q will enable you to switch to desktop mode when you connect your phone to a computer or an external monitor, much like the Samsung DeX. When enabled, you will be able to move apps and use multi-windows to do stuff you like.
As you might have noticed from the image above, the desktop mode still uses three-button navigation and has a status bar at the top.
25. Sharing Shortcuts
One of the slowest things on Android is the sharing menu. Don't you hate it when you have to share say, a webpage on WhatsApp but when you tap on Share it takes a while to load?
Well, Android 10 is getting an overhaul. The Sharing Shortcuts let you swiftly jump into another app to share content as the share UI now loads instantly. It should make content sharing much easier on Android 10.
Android 10 Features: Miscellaneous
Always On Display now shows currently playing music while the battery indicator is now loaded at the top right of the display.
Android Q will have native support for multi-screen for the folding phones.
Android 10 will be the first OS to support 5G network.
Suggested Read-
What Is 5G And Why Is It The Next Big Transformative Wireless Tech?
Samsung Galaxy Fold: 15 Things You Need To Know About The Folding Phone
How Do I Get Android Q Beta?
You can enrol here to get Android Q Beta updates over-the-air, on any Pixel device. For other devices, click on "here" to get the official instructions:
What Will Android Q Be Called?
We don't know yet! But Google always names the Android  OS' name after a dessert. Hence, could it be Android 10 Queen of Puddings? Or Android Qurabiya? We don't know what will it be called.
Fancy making a few guesses on what will Android Q be called? Comment with your Q-names below. Let's see how creative are our readers!
In the end, Google decided to call it "Android 10".